Bitcoin Price and Ethereum Halt Downtrend; Can BTC Rally to $17,500 Today?
Bitcoin, the leading cryptocurrency, finally found support near the $16,900 level on December 7, which is being extended by an upward trendline. The second-most valuable cryptocurrency, Ethereum, is also supported above $1,240, a level that is extended by a double-bottom pattern visible in the 2-hour timeframe.
Major cryptocurrencies traded in a mixed bag early on December 7, with the global crypto market capitalization falling 0.02% to $855.67 billion on the previous day. 
We will go over the technical outlook in detail later in this article, but for now, let's look at the fundamentals of the market.
Let's take a look at the top 24-hour altcoin gainers and losers.
Top Altcoin Gainers and Losers
Trust Wallet Token (TWT), MultiversX (EGLD), and Holo (HOT) are three of the top 100 coins that have gained value in the last 24 hours. TWT's price has risen nearly 5% to $2.40; EGLD's price has risen more than 4.5% to $45.28; HOT's price has risen nearly 4.5%.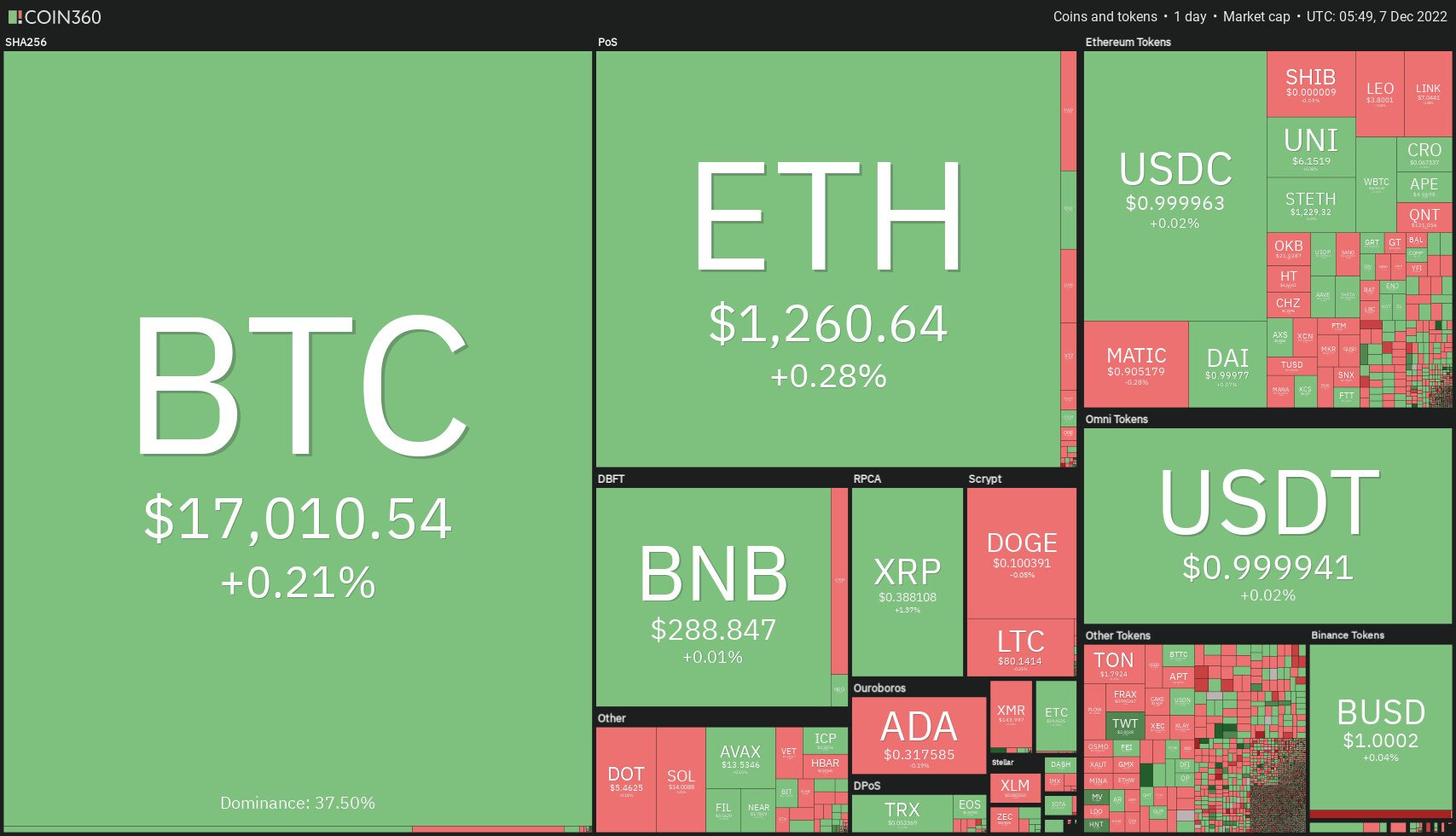 Celo (CELO), Aptos (APT), and Kava (KAVA) are three of the top 100 coins that have lost value in the last 24 hours. Whereas CELO has lost about 4.70% to trade at $0.6185, APT is down nearly 4% to trade at $4.90. At the same time, the KAVA price is down over 4.8% to trade at $0.8635.
Billionaire Tim Draper Predicts BTC Price Increase to $250,000 Next Year
Tim Draper, the founder of Draper Associates and one of Silicon Valley's most prominent financiers, has reiterated his $250,000 Bitcoin ($BTC) price prediction, claiming the cryptocurrency will reach that number by June of next year.
CNBC reports that despite the bankruptcy of the cryptocurrency exchange FTX, Draper still expects the flagship cryptocurrency to climb by over 1,400% in less than a year.
Tim Draper predicts bitcoin will reach $250,000 next year despite FTX collapse: 'The dam is about to break' https://t.co/oKKhzbABTL

— CNBC (@CNBC) December 5, 2022
According to his statement, the $250,000 forecast was pushed out from its initial date of late 2022 or early 2023 by six months.
Crypto Will Be Regulated as Securities, Senator Warren 
Both Senator Elizabeth Warren and Jeffrey Sprecher, CEO of Intercontinental Exchange Inc (ICE), have stated that most cryptocurrencies will be regulated as securities in the United States.
Crypto will be regulated as securities — ICE boss and Senator Warren . Senator Elizabeth Warren's bill seeks to hand control to the SEC, imposing new obligations on centralized crypto firms, something Jeffrey Sprecher thinks will be good for crypto.

— Seam_LLLLi (@wenning67541187) December 7, 2022
Sprecher, whose company ICE oversees the New York Stock Exchange, predicted confidently on December 6 at a financial services conference hosted by Goldman Sachs Group Inc that cryptocurrency assets are "going to be regulated and treated like securities."
He claimed this would lead to stricter regulation of centralized exchanges and brokers, resulting in more protections for individual investors.
"What does that mean? It means more transparency, it means segregated client funds, the role of the broker as a broker-dealer will be overseeing and the exchanges will be separated from the brokers. The settlement and clearing will be separated from the exchanges."
Overall, it will be viewed positively by investors and may contribute to the BTC uptrend.
Bitcoin Price 
The current Bitcoin price is $17,012, and the 24-hour trading volume is $19 billion. During the last 24 hours, the BTC/USD pair has lost nearly 2%, while CoinMarketCap currently ranks first with a live market cap of $357 billion.  

Given the ongoing risk-off sentiment and strong US dollar, the BTC/USD pair fell from $17,385 to give up most of its gains. It is now gaining immediate support at $16,900, which is being extended by a 4-hour timeframe upward trendline.
If BTC can consolidate above $17,000, there is a chance of a bullish reversal. On the upside, Bitcoin may encounter resistance at $17,385; a bullish breakout above this level may allow for additional buying up to $17,650 or $18,000.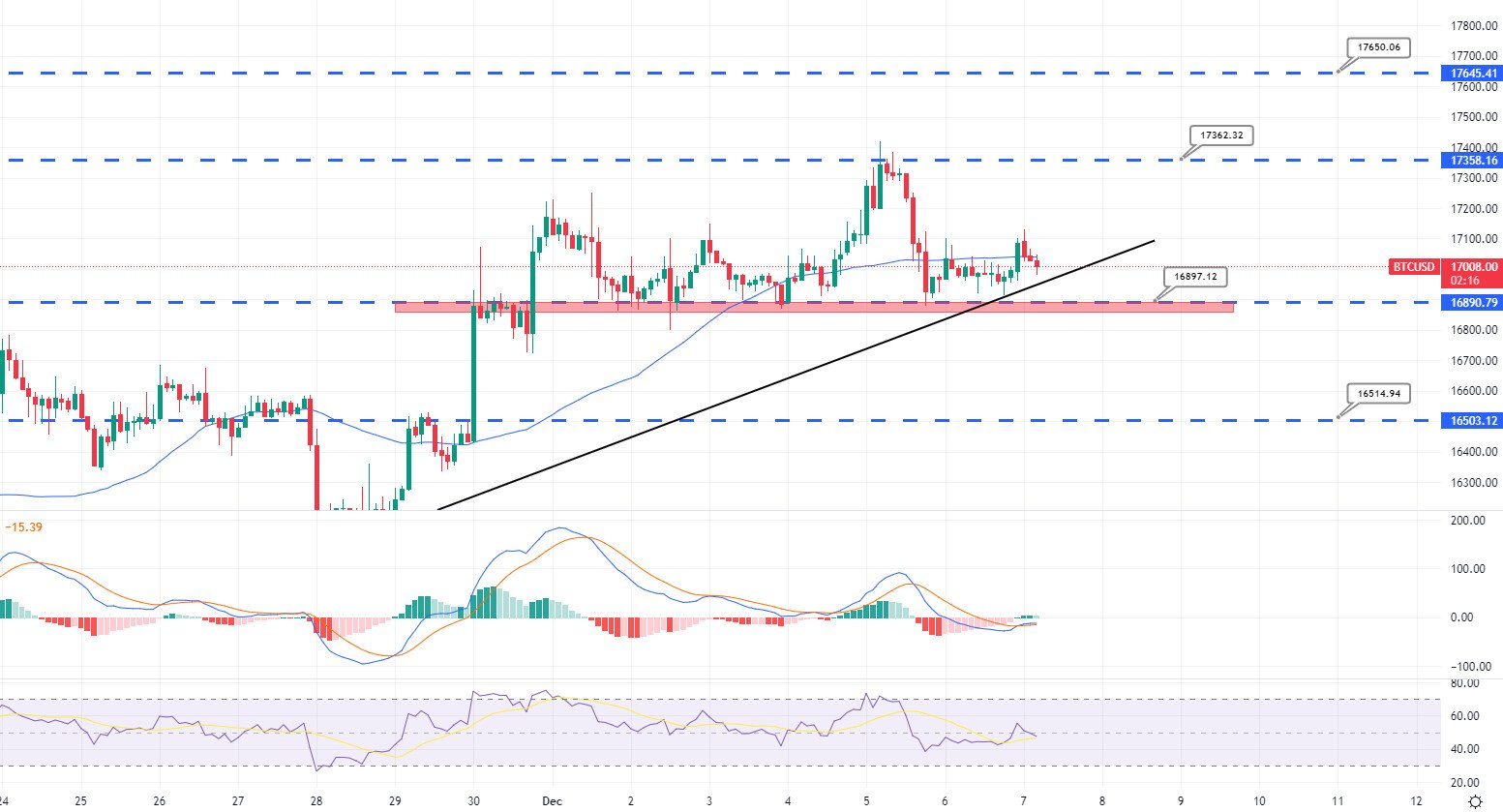 A break below the $16,840 support level, on the other hand, could extend the selling trend all the way to the $16,500 level.
Ethereum Price 
The current price of Ethereum is $1,261, with a 24-hour trading volume of $5 billion. In the last 24 hours, Ethereum is mostly unchanged on Wednesday, gaining less than 0.50%. CoinMarketCap currently ranks #2, with a live market cap of $154 billion.

On the 4-hour chart, Ethereum has fallen to the previous support area of $1,250, and a candle closing above this level has the potential to drive a rebound. On the plus side, ETH has the potential to break through the $1,300 resistance level.
As the 50-day moving average approaches $1,250, the bullish bias remains strong.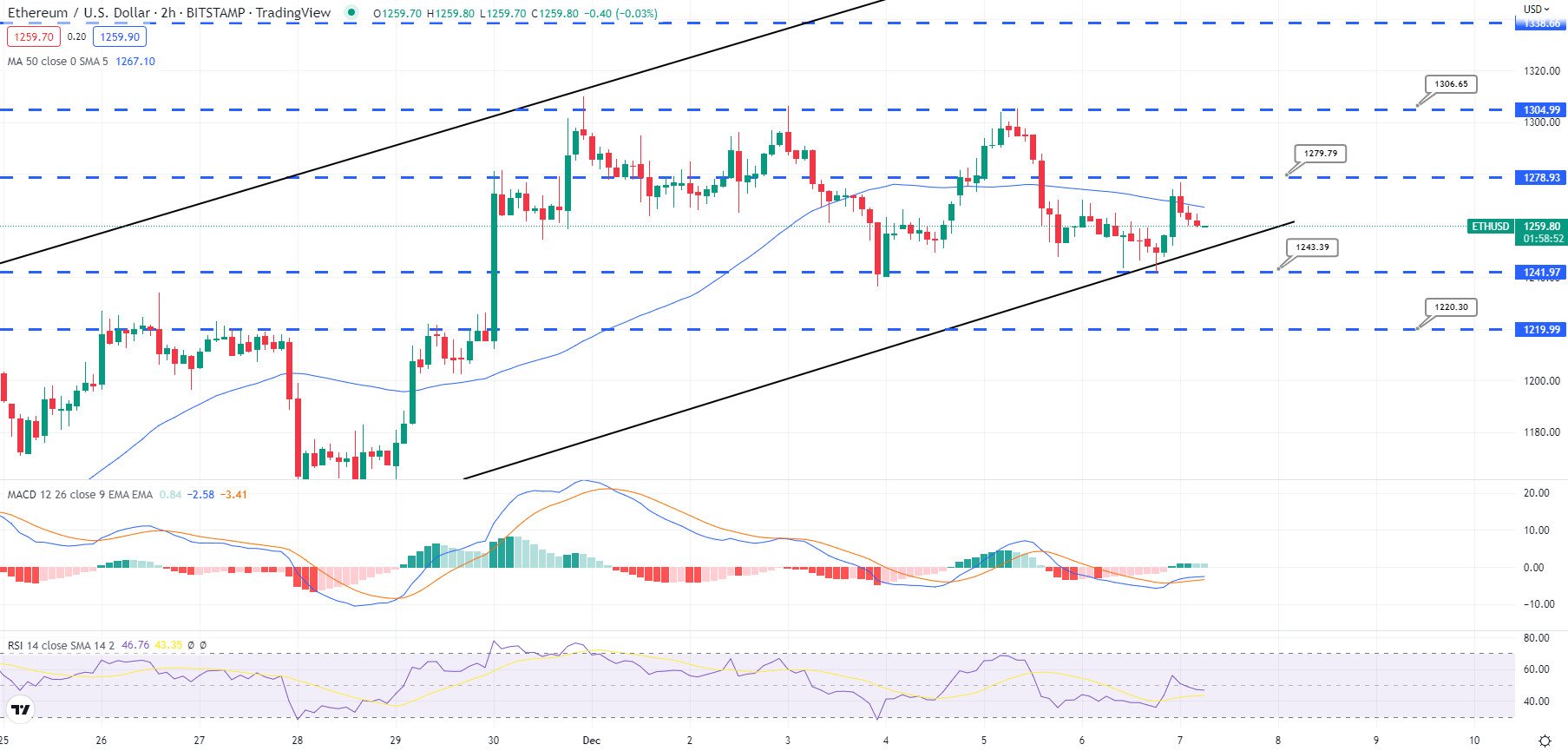 In contrast, the RSI and MACD have recently entered the selling zone, indicating a selling trend in ETH. However, it looks like a bearish correction, and bulls will remain optimistic until $1,250 is reached.
Increased selling pressure may result in a bearish breakout, allowing for additional selling until the $1,220 or $1,185 levels are reached. 
Today, keep an eye on $1,250 as it is likely to act as a major pivot point.
IMPT Presale Ends Soon: 1 Week to Buy 
IMPT is a new Ethereum-based network that will reward users for doing business with environmentally conscious companies. The company's IMPT token will provide these benefits, which can be used to purchase NFT-based carbon offsets, which can then be sold or retired.
IMPT has raised more than $14.6 million since its initial public offering in October, with 1 IMPT currently trading at $0.023.
Due to its extraordinary success, IMPT.io, a groundbreaking platform for carbon offsetting and carbon credits trading, will end its token presale on December 11th.
Find The Best Price to Buy/Sell Cryptocurrency