Bitcoin Price and Ethereum Prediction, NEM Pumps 30%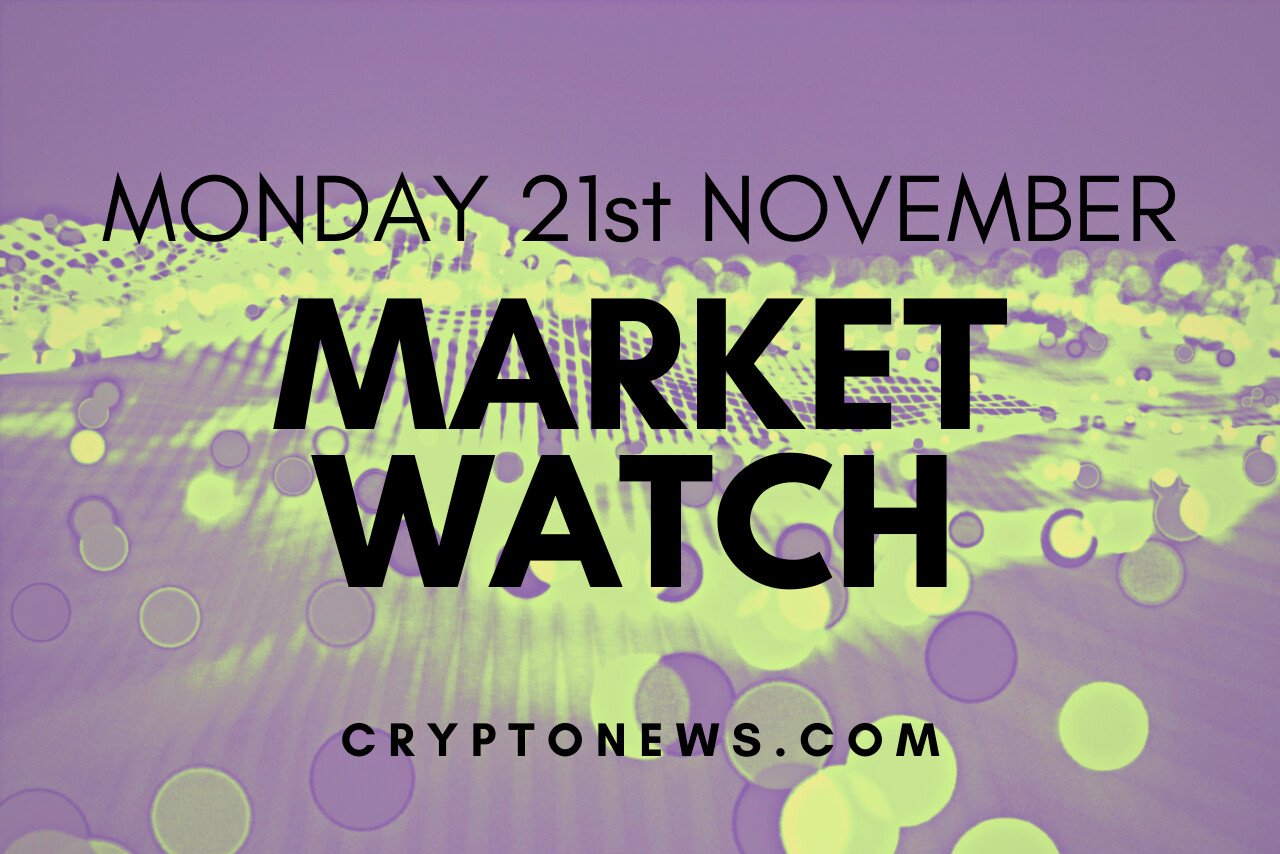 Given the ongoing market volatility, Bitcoin is trading bearish, although it is still consolidating in a limited trading range of $15,800 to $17,200. Ethereum, the second-most valued cryptocurrency, is likewise moving sideways, with a price range of $1,175 to $1,280.
Major cryptocurrencies were trading in the negative early on November 21, with the crypto market value down nearly 4% to $803 billion on the previous day. The overall crypto market volume, on the other hand, increased by 59% in the last 24 hours to $52.85 billion. 
The overall volume in DeFi was $4.60 billion, accounting for 8% of the total 24-hour volume in the crypto market. Whereas, the overall volume of all stablecoins was just above $51 billion, accounting for 97% of the total 24-hour volume of the crypto market.
Let's take a look at the top 24-hour altcoin gainers and losers.
Top Altcoin Gainers and Losers
NEM (XEM), UNUS SED LEO (LEO), and BinaryX (BNX) are three of the top 100 coins that have gained value in the last 24 hours. The XEM price has soared by more than 4% to $0.035, the LEO price has grown by more than 2% to $4.45, and the BNX price has increased by nearly 0.20%.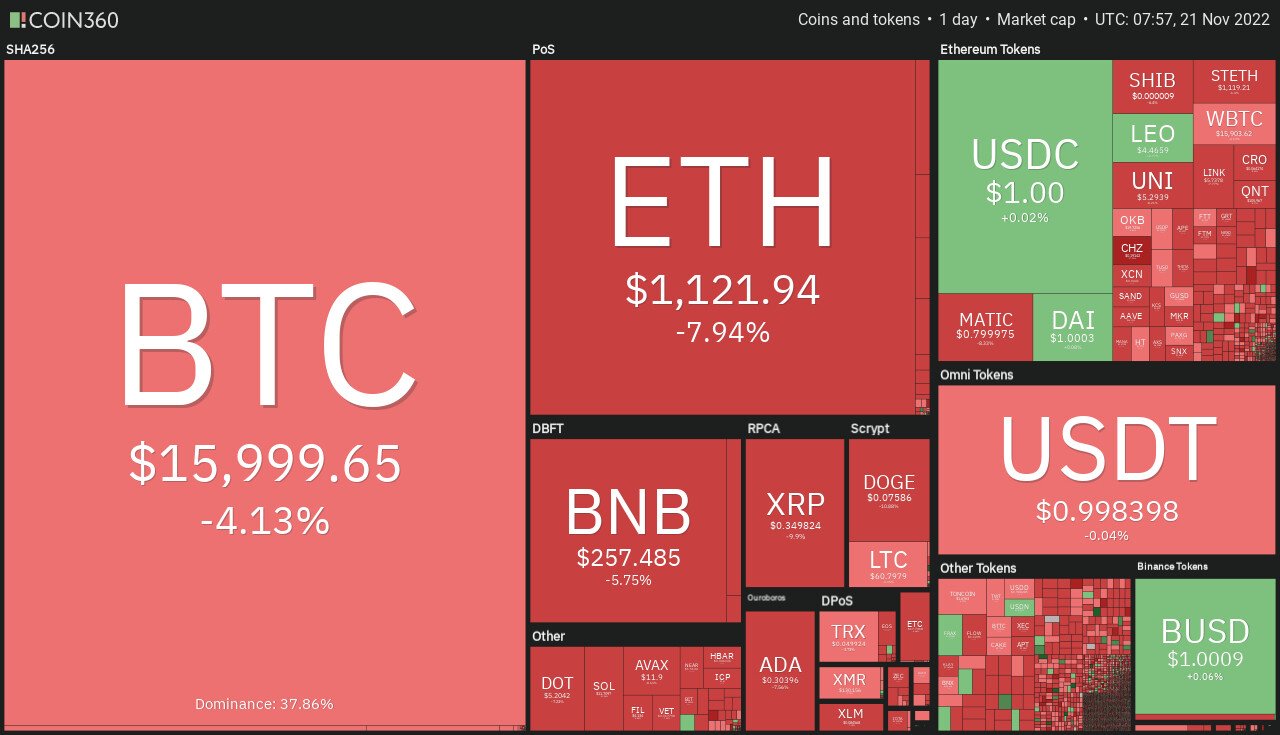 Chiliz (CHZ), EthereumPoW (ETHW), and NEAR Protocol (NEAR) are three of the top 100 coins that have lost value in the last 24 hours. CHZ has lost more than 15% to trade at $0.1930. ETHW has plunged by more than 13% in the last 24 hours to trade at $3.20.
FTX Exploiter Swaps 50K ETH to BTC, Causing ETH to Drop 6%
The stolen monies, totaling over $60 million at today's exchange rates, were first sent via the FTX Exploiter account on November 20. 
In an approximately four-hour span, the hacker transferred a total of 25,000 ETH from one wallet to another. This was preceded by transfers of 5,000 ETH, 10,000 ETH twice, and eventually 25,000 ETH.
The FTX hacker is doing things…

They sent 25k ETH to another wallet and have been actively selling into RenBTC over the last few hours.

They sold another 3k ETH a few minutes ago.

And have sold 18K ETH ($21.7M) of the 25k so far.

Can't we just chill on a Sunday? pic.twitter.com/WLwlU943R9

— Aylo (@alpha_pls) November 20, 2022
Since there was now $60 million worth of ETH in the new '0x866' wallet, the FTX Exploiter began bridging a subset of the 50,000 ETH using RenBridge, a blockchain bridging technology funded by Alameda Research.
The $477 million received by the "FTX drainer" ethereum account is now being bridged to Bitcoin, using RenBridge (owned by Alameda!)
$28 million in ETH has been converted to RenBTC so far this morning, of which $18 million has been bridged to BTC.https://t.co/46DhCaX7GQ

— Tom Robinson (@tomrobin) November 20, 2022
The FTX Exploiter kept bridging renBTC in exchange for ETH, eventually reaching a total of 692 renBTC from the initial 50,000 ETH.  At the time of writing, the '0x866' wallet contained over 10 ETH and 0.092 renBTC, with a total market worth of around $13,000.
Concerns about the FTX-related issue are keeping the whole market under selling pressure.
Bitcoin Price 
The current Bitcoin price is $16,112, and the 24-hour trading volume is $28 billion. Bitcoin has lost over 3% in the last 24 hours. CoinMarketCap currently ranks first, with a live market cap of $309 billion, down from $352 billion.
It has a maximum supply of 21,000,000 BTC coins and a circulating supply of 19,213,150 BTC coins.

Bitcoin has settled into a trading range of $16,000 to $17,000, with a breakout determining future price movement.
Bitcoin is currently facing immediate resistance near the $17,250 level, and a cross above this could lead BTC to the next resistance area of $18,100.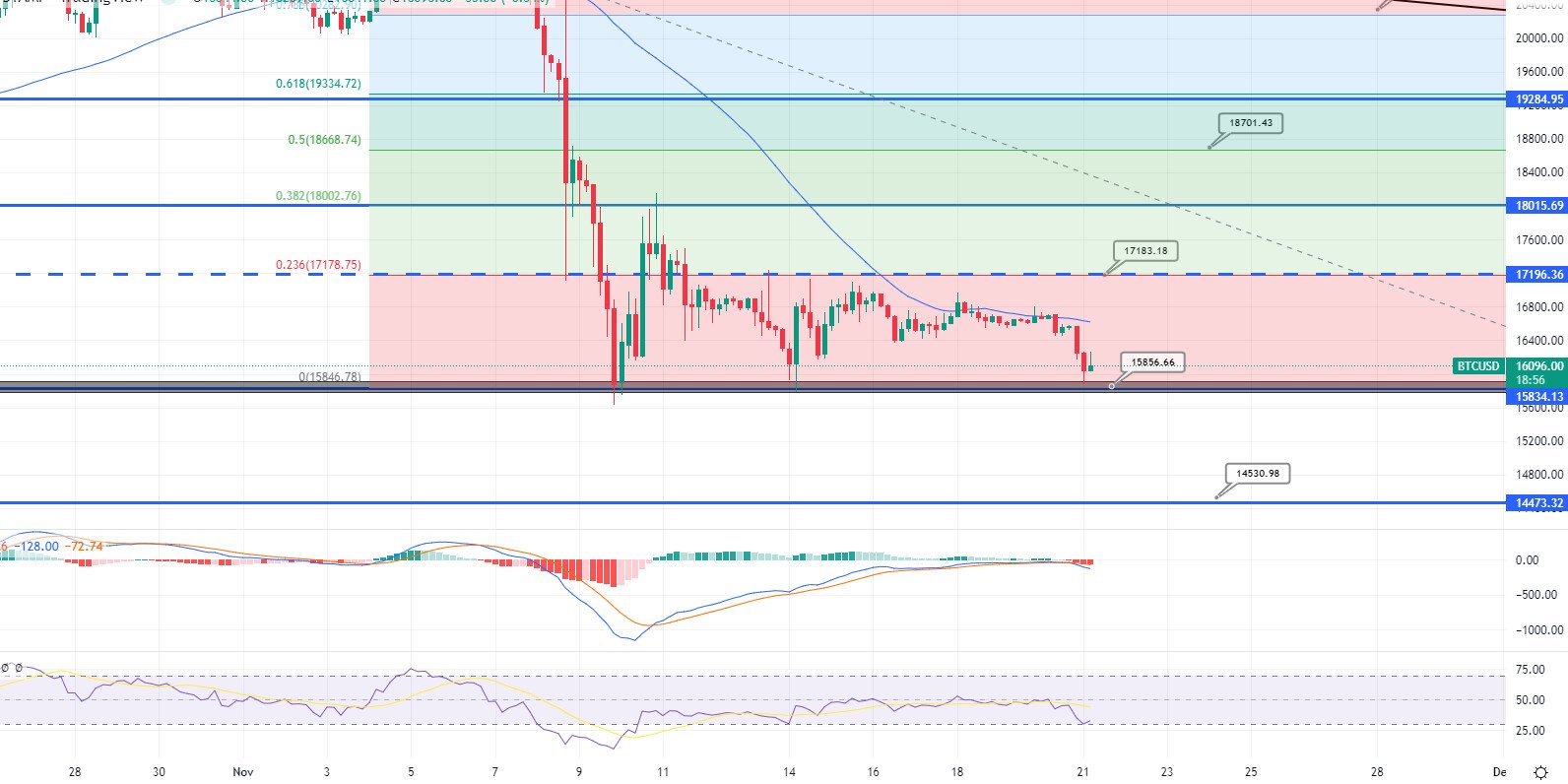 On the downside, Bitcoin's immediate support is at $15,800, and a bearish breakout of this can open up additional selling space until $15,800. Whereas, an additional breakout below $15,800 can expose BTC to $14,550. 
Ethereum Price 
The current price of Ethereum is $1,129, with a 24-hour trading volume of $11 billion. In the last 24 hours, Ethereum has lost over 7%. With a live market cap of $138 billion, CoinMarketCap currently ranks second. It has a circulating supply of 122,373,866 ETH coins.

On the 4-hour chart, Ethereum is attempting to reclaim the $1,100 level. The ETH/USD has broken through a symmetrical triangle on the lower side, indicating the possibility of a strong downtrend continuation. 
On the upside, the 50-day moving average is extending major resistance at $1,215 and is likely to act as a major resistance below a previously violated triple bottom.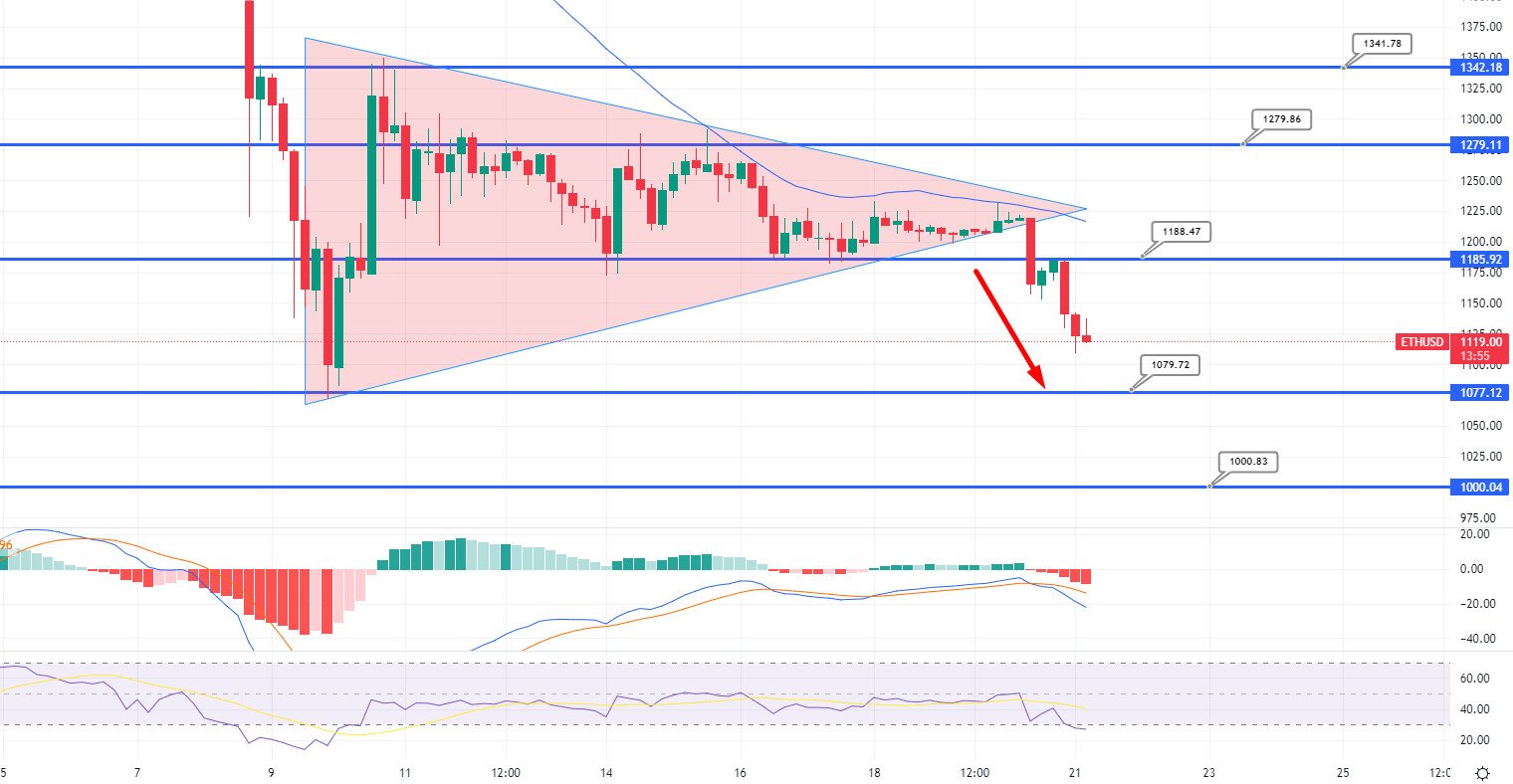 Closing candles below this level may cause ETH to fall into the $ 1,075 or $1,000 support zones.
NEM Pumps 30%
The current NEM price is $0.03461, and the 24-hour trading volume is $62 million. NEM has increased by over 3.50% in the last 24 hours and over 30% in last seven days. With a live market cap of $311 million, CoinMarketCap currently ranks #85. There are 8,999,999,999 XEM coins in circulation.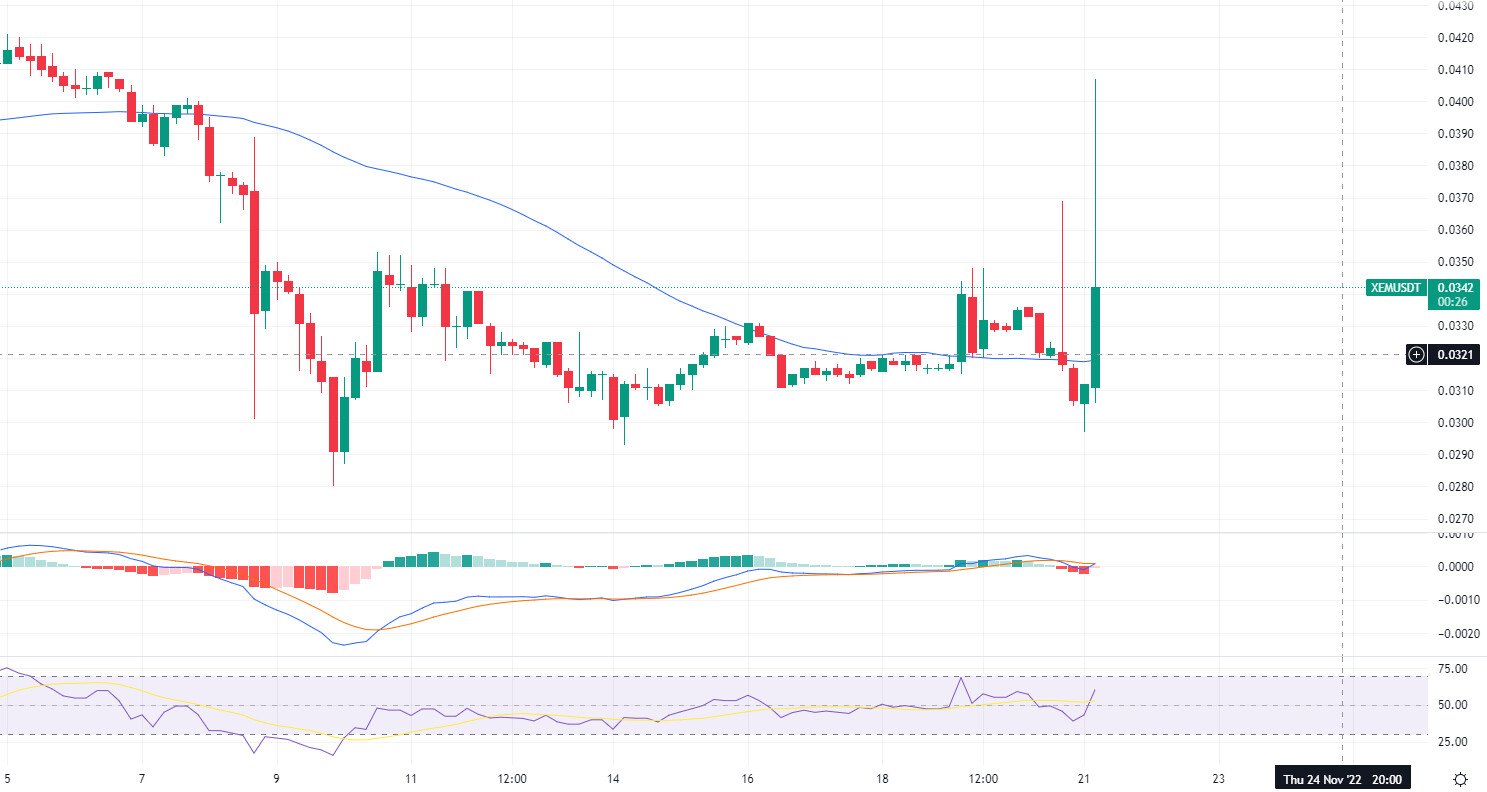 On the technical front, NEM has risen above the $0.030 support level, and the closing of candles above this level has the potential to fuel further uptrends. 
On the upside, NEM's immediate resistance remains at $0.040, and increased demand could cut through it to target $0.048 or $0.050.
Presale Cryptocurrency With Enormous Potential Gains
Dash 2 Trade (D2T)
Dash 2 Trade, developed by the Learn 2 Trade service, offers market-driven insights, trading signals, and prediction services to investors. The cryptocurrency initiative promises to offer consumers sufficient information to enable them to make successful decisions.
D2T is an Ethereum-based trading intelligence platform that gives real-time analytics and social data to traders of all skill levels, helping them to make better-educated decisions.
D2T started selling tokens three weeks ago and has already raised over $6.7 million. It also announced the launch of its maiden CEX listing on the LBank market. 1 D2T is currently worth 0.0513 USDT, but this is expected to rise to $0.0533 in the next stage of sales and $0.0662 in the final stage.
Find The Best Price to Buy/Sell Cryptocurrency