Goldbug and Crypto Sceptic Peter Schiff Says Bitcoin Will Fall to This Level, More Selling to Come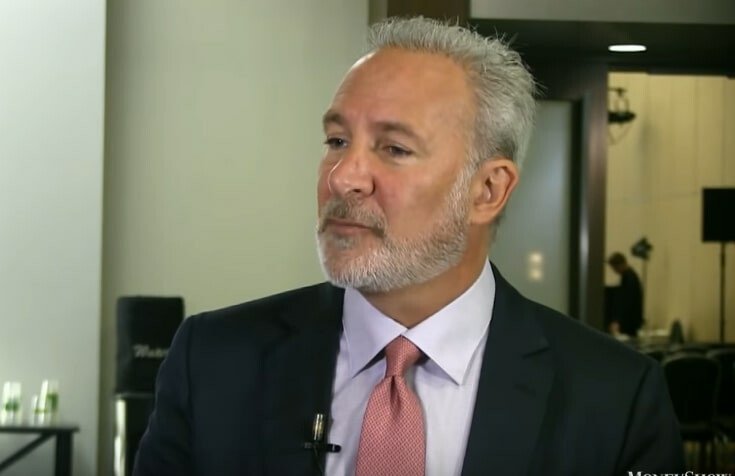 Bitcoin (BTC) skeptic Peter Schiff has said that BTC's actual price is much lower than what we're currently seeing and that Bitcoin mania is "over".
Last week, in a Twitter thread, Schiff shared his opinion on recent Grayscale's Bitcoin trust (GBTC) performance, focusing on the net asset value (NAV), and what that means for the price of Bitcoin.
And according to him, it means that BTC is trading "well below" $10,000 already. 
"I think this is the real price of Bitcoin, as when you sell GBTC you get paid real cash. But when you sell BTC you get paid Tether. To get actual cash for Bitcoin you must accept a huge discount."
Unsurprisingly, he was heavily criticized for his posts by the crypto community, some of which jokingly claimed that Schiff himself is a BTC buyer looking for sellers. Others are 'begging' the crypto critic to let them know when and where they can buy BTC below $10,000.
Despite this, Schiff continued urging people to abandon the world's most popular crypto, saying:
"GBTC is trading at a 46% discount now. New record. Something is definitely going on. Bitcoin is in real trouble. Get out while you can!"
He went on to discuss possible reasons behind the lower NAV, saying that GBTC may have loaned out its Bitcoin and the borrower can't repay the loan, or the BTC was stored with a custodian who lost it – but that the NAV could be "really a lot lower."
Today the #Grayscale Bitcoin Trust traded at a 43% discount to its NAV. With #Bitcoin trading at $16,700, shareholders of $GBTC were willing to sell their Bitcoin for the equivalent of $9,500. What does that tell you about retail and institutional investor confidence in Bitcoin?

— Peter Schiff (@PeterSchiff) November 17, 2022
That said, cryptoasset manager Grayscale Investments stated on Friday that "the laws, regulations, and documents that define Grayscale's digital asset products prohibit the digital assets underlying the products from being lent, borrowed, or otherwise encumbered."
All digital assets that underlie Grayscale's digital asset products it added, are stored under the custody of Coinbase Custody Trust Company, stating that:
"To be perfectly clear: the BTC underlying Grayscale Bitcoin Trust are owned by GBTC and GBTC alone."
And in their announcement on this topic, the company claimed that,
"Custody of the digital assets underlying Grayscale's digital asset products is unaffected, and our products' digital assets remain safe and secure. "
More to come
Schiff also looked back on one of his older BTC-related tweets, saying that it didn't take long for his prediction to come true. The tweet in question, posted in July, argued that the need to sell BTC would worsen as the recession deepens and as "many HODLers lose their jobs, especially those working for soon-to-be bankrupt blockchain companies."
Schiff also claimed that,
"The lion's share of the selling has not even started yet. Bitcoin still has a long way to fall."
He also turned his focus to the topic of the month – the disastrous collapse of the FTX exchange, stating that the former CEO Sam Bankman-Fried was 'obviously' a conman. 
I never looked into #SBF as I never even considered investing in #FTX. But had I done ten minutes of due diligence the red flags would have been obvious. That so many in #crypto were so easily duped by an obvious conman calls into question their judgement on everything crypto.

— Peter Schiff (@PeterSchiff) November 17, 2022
'Bitcoin mania is over'
Schiff is an outspoken stock broker and the CEO of Euro Pacific Capital, who evangelizes gold-buying as an investment strategy, but claims that BTC is a scam. He has become pretty infamous in the world of crypto Twitter over the years, where he often trolls BTC advocates.
This prolonged downturn in the crypto markets has given him plenty of opportunity to again declare crypto dead and to urge people to purchase gold. 
"Bitcoin mania is over. Buy gold," he said today.
The supply of #CryptoCurrencies is soaring as demand for #cryptos is collapsing. Over the past year the supply of cryptos grew by around 50% to almost 22,000. But during that same time period the combined market capitalization fell by about 73%. #Bitcoin mania is over. Buy #gold.

— Peter Schiff (@PeterSchiff) November 20, 2022
He further claimed that the value of stablecoins would "soon" exceed the value of Bitcoin.
With the market capitalization of all #crypto tokens below $793 billion, the value of the two largest dollar-backed stable coins represents 14% of the market. That's 80% of the value of #Etherum, the 2nd largest. Soon the value of stable coins will exceed the value of #Bitcoin.

— Peter Schiff (@PeterSchiff) November 21, 2022
At 10:00 UTC on Monday morning, BTC was trading at $16,119. It is down 3% in a day, over 1% in a week, 16% in a month, and 73% in a year.
BTC 30-day price chart: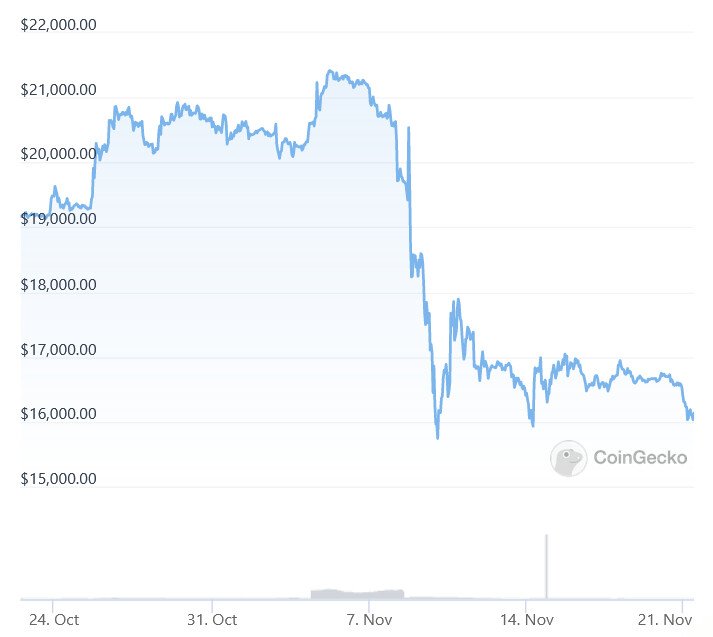 ____
Learn more: 
– Bitcoin Billionaire Michael Saylor Gets Into Twitter Spat with Gold Bug Peter Schiff
– Peter Schiff Gets an Unexpected Lesson in the Benefits of Bitcoin as Banking Woes Bite

– Billion-Dollar Crypto Fund Grayscale Refuses to Post Proof-of-Reserves – Next Firm to Collapse?
– Grayscale Ramps Up Efforts Against SEC For Rejecting Bitcoin ETF

– Rich Dad Poor Dad Robert Kiyosaki Calls FTX Founder 'Bernie Madoff of Crypto', Says 'Bitcoin is Not the Problem'
– Binance Now Holds Nearly 600,000 Bitcoin Worth $9.6 Billion – Largest BTC Holder in the World?