Options Market Shows Bearish Outlook on Ethereum Price
Despite the recent strong sentiment seen in the spot market, options traders appear to be skeptical about current ethereum (ETH) price, with contracts expiring in May, June, September, and December all showing higher than 50% probability that the price will fall.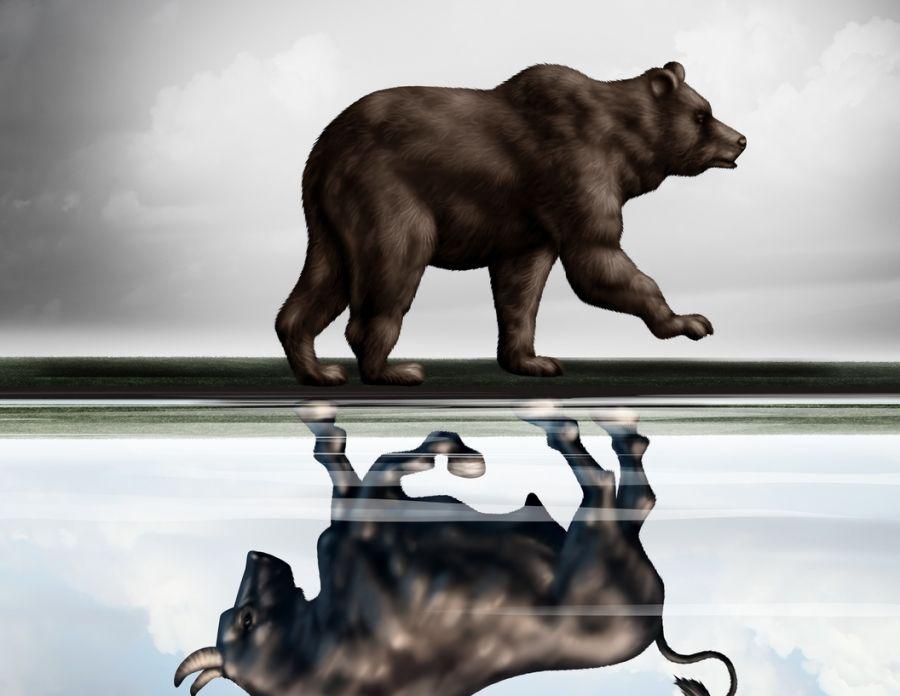 Currently trading around the USD 200 mark in the spot market, ETH is now at a psychologically important make-or-break level for traders, after an impressive bull-run that has taken it from a low of USD 90 on March 13. Now, almost two months later and after a gain of more than 120% from the low, the price is down by about 7% over the past 24 hours to a price of USD 200 as of press time (11:27 UTC). It's still up by almost 2% in a week.
Judging from data compiled by the crypto derivatives analytics provider Skew, however, options traders are not convinced that the ETH rally will continue from here. As of this morning, the probability curves for all the options contracts Skew monitors shows that more capital is betting on prices going lower from here, compared to the amount of capital that is betting on higher prices.
Not surprisingly, the contract with the nearest expiry date – the May contract – is also showing the most optimism about the price, indicating a probability of 46% that the ethereum price will be above USD 200 by expiry. And from there, it goes down further, with the June contract showing a 43% probability of higher prices, September with 39%, and December with only a 35% probability the price will be higher than today by then.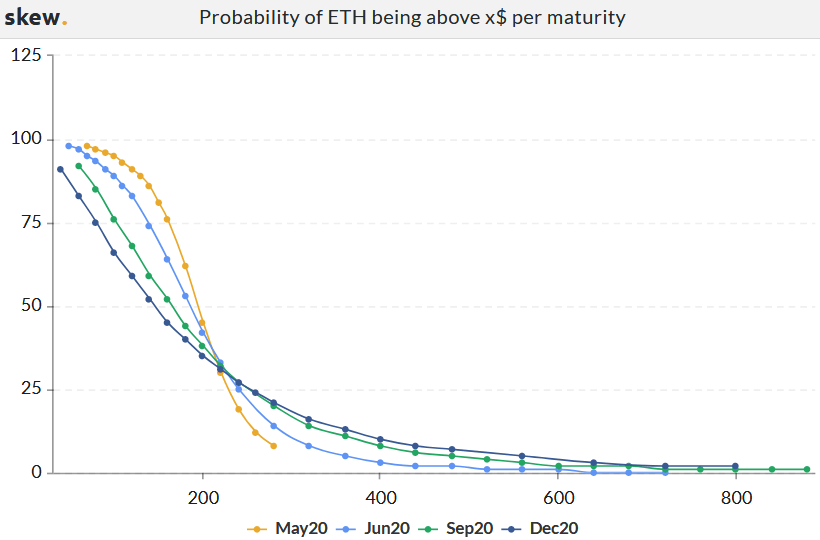 Although the available data speaks for itself regarding the sentiment among players in the options market, it should also be noted that the market for ethereum options is quite limited, with only a few major exchanges offering it. Among them is crypto derivatives exchange Deribit, which offers futures and options on both bitcoin and ethereum.
By comparison, the bitcoin (BTC) options market is showing a slightly more optimistic outlook for the price, although the overall sentiment is bearish here too, with the May contract indicating a 49% probability that bitcoin will be above USD 8,500 by expiry.
As of press time, bitcoin is trading at USD 8,698, after having rallied almost 95% from the crash on Black Thursday on March 12.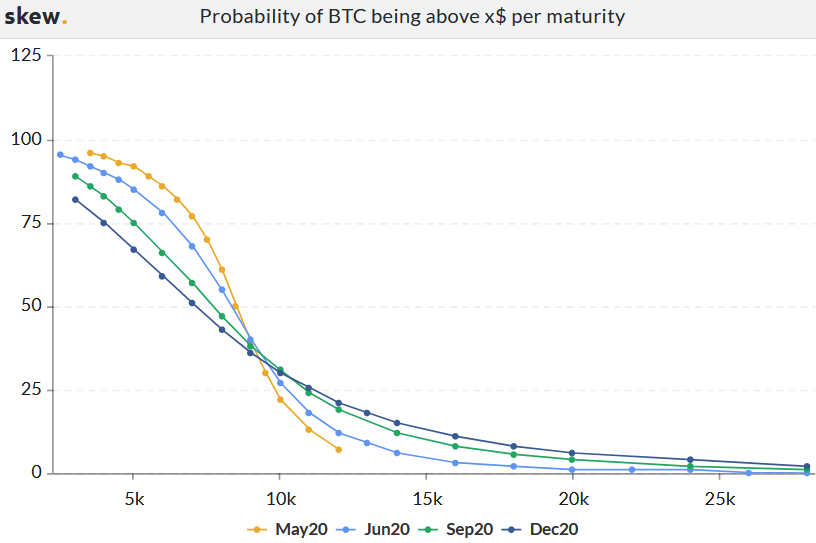 Options are derivatives contracts give traders the right, but not the obligation, to buy or sell an asset at a given price on or before the date when the contract expires. Although futures trading has taken the world of crypto by storm, with companies like BitMEX, Binance, and CME all offering it on bitcoin, options are still lagging behind in terms of popularity.